Naplemente az esőben
Yesterday afternoon I was planning to see the original movie
Singing In The Rain
at Kulturhuset (for the International Dance Day), but as I have a cold, I didn't feel like sitting in an overchilled movie theater (I am always freezing in the Stockholm cinemas), so I decided to get some sunshine instead, and a nap.
Tegnap délután úgy terveztem, hogy elmegyek és megnézem az eredeti Ének az esőben c. filmet, amit a Tánc Világnapja alkalmából játszottak a Kulturhusetben,de mivel náthás vagyok, nem igazán akaródzott egy agyonlégkondizott teremben ücsörögni (mindig fázom a stockholmi mozikban), ezért inkább úgy döntöttem, hogy napozok meg szundítok egy picit.
Later on, I went to the city and had to jump off at
Gamla stan
from the metro, for I saw that the sun was just about the set and it looked very promising.
Később bementem a városba, és
Gamla stan
nál ki kellett ugranom a metróból, mert láttam, hogy mindjárt lemegy a nap, és nagyon ígéretesnek tűnt.
I bet the rain has only started to pour down right at that second, exclusively for me - my winter jacket got soaking wet, not to mention my hair, and my mascara definitely didn't know how to behave in the presence of water... Anyway, I had to run a few hundred meters, against the wind (let's don't forget: with my cold, and yeah, a sports bag), for there was only a few minutes left to catch the show. And apparently, I was the only one in the whole of Stockholm crazy enough to go through all this, because I enjoyed this miracle in the greatest solitude (except for one jogger and one car, but they couldn't care less).
Lefogadom, hogy az eső kizárólag az én tiszteletemre kezdett el ömleni - szépen átázott a télidzsekim, a hajamról nem is beszélve, a szempillafestékem pedig abszolút nem tudta, hogyan illik viselkednie vízzel való találkozáskor... Na mindegy, párszáz méter futnom kellett széllel szembe (és ne feledjük: a megfázásommal, ja és egy sporttáskával), mert csak pár percem volt, hogy le ne késsem a műsort. És nyilván én voltam az egész Stockholmban ilyen őrült, hogy mindezeken keresztülmenjek, mert a csodát a legnagyobb magányban élvezhettem (kivéve egy autót meg egy kocogót, de őket a legkevésbé sem érdekelte az egész).
Well, see it for yourself if it was worth :-)
Nos, nézzétek meg ti magatok, hogy megérte-e :-)
The next pictures were taken with my mobile phone, that's why the very different tone. My camera's lens couldn't take the battle with the rain any more... But I guess it did well so far and I can reward her with a nice cleaning.
A következő képeket a mobilommal készítettem, ezért annyira mások a tónusok. A fényképezőgépem lencséje nem bírta tovább a harcot az esővel... De azt hiszem, eddig nagyon ügyes volt, úgyhogy megjutalmazhatom egy jó kis tisztítással.
There was quite some lightning from this side, but I couldn't catch any.
Jó sokat villámlott ezen az oldalon, de egyet se tudtam elcsípni.
You can get some of these photos on different products: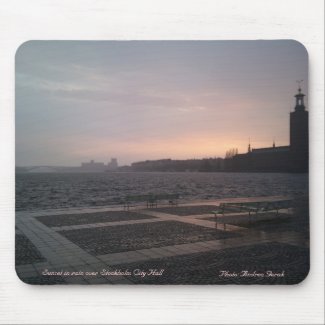 Sunset in rain over Stockholm City Hall 1, Suns... Mouse Pad
by
AndreaGerak
View a different
mousemat
on zazzle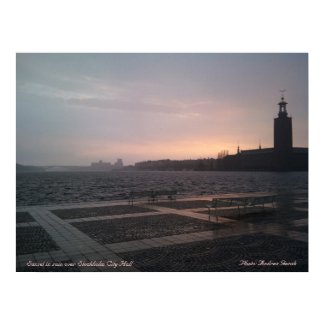 Sunset in rain over Stockholm City Hall 1, Suns... Poster
by
AndreaGerak
View custom art
Posters
& Prints at online Zazzle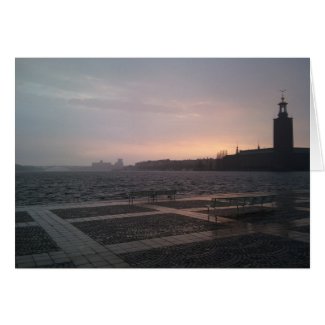 Sunset in rain over Stockholm City Hall Greeting Card
by
AndreaGerak
Shop for a
card
with zazzle.co.uk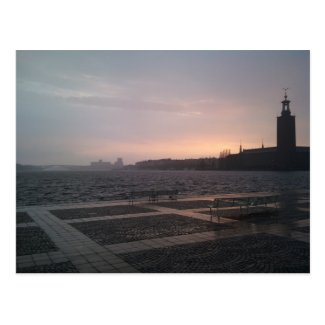 Sunset in rain over Stockholm City Hall Postcard
by
AndreaGerak
Create a
Post card
with zazzle.co.uk
Framed Print
Photo licensing, business enquiries, general requests or questions that wouldn't fit into a comment here:
gerakandrea@gmail.com
Psst! Travel (and life) is much easier, if you have this info: